The military (insanity) lack of mental responsibility defense is set out in several places relevant to Major Hasan and the events at Fort Hood.  The first step that should be taken by a prudent convening authority in this case is to order a mental examination under R.C.M. 706, as soon as Major Hasan is medically fit.  Major Hasan and his counsel could arrange for a private examination at the major's own expense.  But should they attempt to put on an insanity/lack of mental responsibility defense the prosecution will certainly persuade the military judge to order a government examination.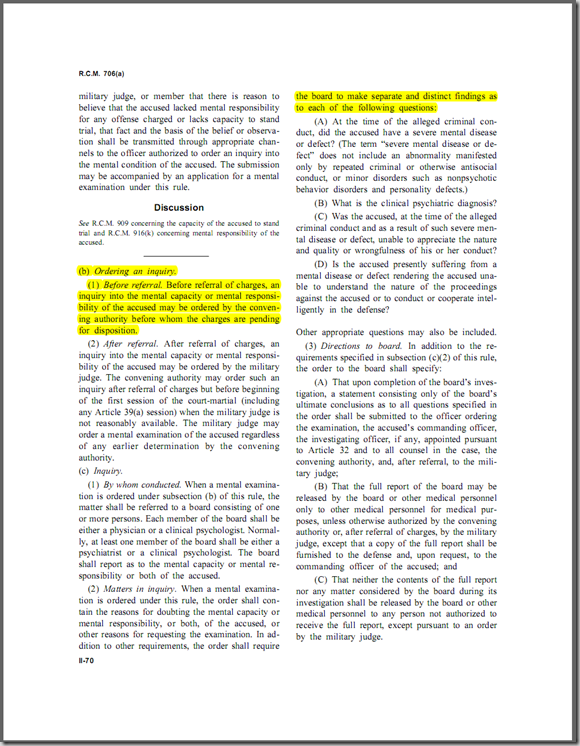 There are two reports: the first is a short form with the answers to the basic questions.  The short form is given to the commander at Fort Hood, his legal advisor, the prosecution, and the military judge.  A long and detailed report is given only to the defense.  Thus the examination and a large part of the work is privileged.  Mil. R. Evid. 302 sets out the privileged nature of the examination, and the exceptions.  The defense becomes the gatekeeper of the report.  Should the defense seek to put on a lack of mental responsibility (insanity) defense the report may well have to be disclosed.  Should the examination find the major currently incompetent, then he's off to the federal confinement facility at Butner, NC, under Article 76b, UCMJ.  There is currently one service-member at Butner under Article 76b.

Stayed tuned for the defense.