Thanks to safeguardourconstitution.com we have the Article 32, UCMJ, IO's written ruling on several matters in LTC Lakin's case.
Note, "the Army" did not refuse the defense requests.  The IO did, acting in his role assigned under Article 32, UCMJ, and R.C.M. 405.  This is what I would have expected MAJ Kemkes, the military defense counsel to have told LTC Larkin, and by inference, Mr. Jensen.
The written ruling is as expected.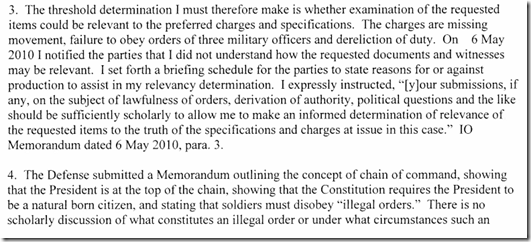 Sad, the defense was actually given the opportunity to submit a legal memorandum giving detailed facts and legal arguments to support production of evidence under R.C.M. 405(f)(9), (10).  Inexplicably the defense failed to do that.  I do not see any military judge saying that the IO's determination was wrong.  Especially as the defense failed to attempt an argument.  I would suggest the issue is waived, at least as to the Article 32, UCMJ, hearing.


It seems very hard to argue, unfair even, to criticize "the Army" or the "IO" from hiding the ball if, having been given fair notice and an opportunity to argue, the defense waives or fails to exercise the opportunity to state their position with particularity supported by law.