A question arises for Major Hasan and the court-martial about venue or situs or trial at Fort Hood or somewhere else.  Here is the general rule from R.C.M. 906(b)(11), for a change of venue of a court-martial: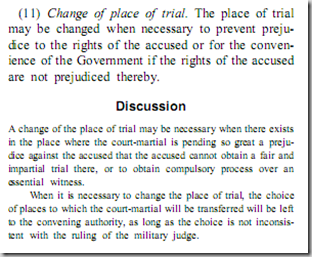 United States v. Curtis was at one time a death penalty case, but not anymore as a result of post-trial actions.  Here though is the court on change of venue:
Appellant argues that the defense counsel should have asked for a change of venue because of pretrial publicity. However, pretrial publicity standing alone, no matter how widespread, is not a sufficient reason for a change of venue. As will be discussed in Issue XV, the defense is not entitled to have such a motion granted unless it is shown that such publicity has permeated the panel members. In most instances a motion for a change of venue takes place after the voir dire. But "where there is a reasonable likelihood that prejudicial news prior to trial will prevent a fair trial, the judge should continue the case until the threat abates, or transfer it [**35] to another county…." Sheppard v. Maxwell, 384 U.S. 333, 363, 16 L. Ed. 2d 600, 86 S. Ct. 1507 (1966). However, a showing of actual prejudice is usually necessary before a change of venue is granted. In this case the pretrial publicity had not so permeated the courtroom that the defense was left with promises of members to disregard what they might have heard.
United States v. Curtis, 44 M.J. 106, 124 (C.A.A.F. 1996).  Another death penalty case:
Appellant also asserts that the military judge demonstrated bias by stating that his ruling on the requested change of venue "wouldn't change by my viewing any of these television reports of this trial." The military judge stated that the defense would be permitted to raise the venue issue again if voir dire of the court members indicated that they had been influenced by pretrial publicity and that he would liberally grant challenges based on exposure to pretrial publicity.
United States v. Loving, 41 M.J. 213, 254 (C.A.A.F. 1994).  Loving is still an active death penalty case in the appellate process.
The Convening Authority can make some arrangements to try the case elsewhere than Fort Hood.  But if he decides to proceed at Fort Hood, then the military judge decides a change of venue motion as an interlocutory matter and his decision is final.  See United States v. Nivens, 21 U.S.C.M.A. 420, 45 C.M.R. 194 (1972).  So in Major Hasan's case the defense can make a motion, but they will bear the burden of establishing that the court-martial cannot be fair, and that other mitigating remedies such as very liberal voir dire won't work.