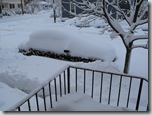 Not going too far, how about you?
Meanwhile – – –
A Robins Air Force Base master sergeant was dishonorably discharged and sentenced to 50 years in prison after he was found guilty of engaging in sexual contact with several minors, according to The Robins Rev-Up, the Robins Air Force Base installation newspaper.
(Macon) Sun News reports.  And here is a link to Rev-Up Military Justice Actions.  There is also an item about Air Force high-year tenure changes which can be relevant to UCMJ actions.
A U.S. Air Force officer has admitted to beating a gay man outside a Manhattan bar, and lost his rank for his role in the incident. . . Ford, a Bronze Star medal recipient, lost a month's pay and his rank, the story said.  (I think they mean non-commissioned officer.)
Edge reports.
Lawyers for a Navy senior chief implicated in a hazing scandal in Bahrain say he's been smeared by "scurrilous allegations" and are mounting a vigorous defense in hopes that he can retire at full pay. . . A three-member board convened Thursday to consider the retirement of Michael Toussaint, a master-at-arms who served as kennel master of the military working-dog unit in Bahrain from 2004 to 2006.
Kate Wiltrout, Pilot Online reports.
A Fort Bragg soldier charged with burglary and sexual assault tried to get mental counseling after returning from Iraq but was turned down, his family members said Thursday. . . Spc. Aaron Michael Pernell, 22, was charged Monday in two burglaries and a sexual assault that occurred in December in the Ste. Mere Eglise neighborhood on post. . . The Army plans to conduct an Article 32 hearing, which is the military equivalent of a probable-cause hearing, in the next week to determine whether a court-martial is warranted, Fickel said.
WRAL.com reports.  The article also has links to a number of other pieces about this case.
Despite assurances by military public affairs officers that the Army would work with Spc. Hutchinson and her attorneys to resolve the matter administratively, rather than through the criminal process, charges of missing movement, AWOL, dereliction of duty, and insubordinate conduct were filed on January 13th.
SPC, 11th Engineer Battalion, convicted at special court-martial of two specifications of absence without leave and two specifications of wrongful use of a controlled substance. A military judge sentenced him to confinement for 135 days, and a bad-conduct discharge.

SPC, 3rd Heavy Brigade Combat Team, convicted at a special court-martial of three specifications of assault. A military judge reduced him in pay to E-2 and two months confinement.
The Bayonet reports.
Stolen Valor Update.
The federal courts are wrestling with a question of both liberty and patriotism: Does the First Amendment right to free speech protect people who lie about being war heroes?  At issue is a three-year-old federal law called the Stolen Valor Act that makes it a crime punishable by up to a year in jail to falsely claim to have received a medal from the U.S. military. It is a crime even if the liar makes no effort to profit from his stolen glory.  Attorneys in Colorado and California are challenging the law on behalf of two men charged, saying the First Amendment protects almost all speech that doesn't hurt someone else. Neither man has been accused by prosecutors of seeking financial gain for himself.
AJC and SeattlePI report.  It seems to me there are four types of individuals who steal valor:  the active, Reserve, or NG person, the civilian or former member who uses their "valor" to get something for free, the person who gets something but it's hard to quantify, and the pure braggart.  The military person can be dealt with under the UCMJ, the fraud for profit can be prosecuted for the fraud, and the other two can be cut and sent to Coventry.
The Disrespectful Rapper.
In my previous post, I talked about how the Army plans to Extradite to the sovereign nation of Iraq a Stop Loss Rappin Soldier to get him away from U.S. Public Scrutiny

Well readers if you agree with this, then what next sending American Soldiers to the United Nations to find other countries to court martial our troops outside the borders of the United States so the Pentagon is not embarrassed?
Robert L. Hanafin, Veterans Today comments.  An odd perspective.
Collateral effects.
The Michigan Court of Appeals has ruled that homeless sex criminals don't have to comply with Michigan's Sex Offender Registry Act. Many law enforcement officials — who often have to deal with sex offenders who claim they have no permanent residence — aren't happy with the ruling.

– – – – – –

A Third Circuit panel has again struck down as substantively unreasonable a supervised release condition putting a lifetime limit on internet use.  United States v. Miller, No. 08-4278 (3d Cir. Feb. 5, 2010).
Sentencing Law & Policy hat tips.
[Update] A Marine captain awaiting a court-martial for defrauding the government was found dead from an apparent suicide Sunday in the Marine Corps Base Quantico, Va., brig, base officials said.
Marine Corps Times reports.  I have commented before about the attention given to increases in the military suicide rate, and that I believe there is an uptick in suicides related to courts-martial.