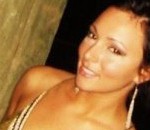 Military.com reports:
Airman 1st Class Apryl Sanders, a weapons manager for the 16th Airborne Command and Control Squadron at Robins Air Force Base, Ga., was named Miss Military last month by a nonprofit organization in California.
Wednesday, she e-mailed the contest organizer to refuse the crown.
Smith said that the unit's Judge Advocate General's staff counseled Sanders that Military Civilian Experience was using the contest to raise money, thus making her ineligible as a uniformed service member. Sanders will not be reprimanded for participating in the event, Smith said.
(Photo courtesy of Macon Telegraph)