An attorney for the Army psychiatrist accused of going on a shooting rampage at Fort Hood said Monday he wants his client's mental evaluation delayed, citing a potential conflict of interest with the exam panel.

Army officials previously appointed a three-member board of military mental health professionals to determine whether Maj. Nidal Hasan is competent to stand trial and his mental status the day of the November shooting, which left 13 dead and dozens wounded on the Texas Army post.
Military.com reports.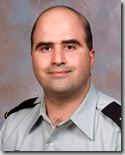 …Galligan said one panel member taught at the medical school Hasan attended, although Galligan was unsure if that doctor directly taught or knew Hasan. Galligan declined to release any board members' identities.

In his motion to Army officials last week, Galligan said he also requested an all-civilian board, saying doctors with no military ties likely would be more objective and not worried about repercussions if their diagnosis was considered favorable to Hasan.