As Prof. Colin Miller TG points out in a new post, Fed. R. Evid. 804(b)(6), applies to both sides.  The Mil. R. Evid. contains the same language.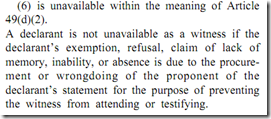 For an example of a case in which the government forfeited its right to object to the defendant's admission of hearsay from a declarant whom the government rendered unavailable, consider the recent opinion of the Ninth Circuit in United States v. Leal-Del Carmen, 2012 WL 4040253 (9th Cir. 2012).
Prof. Miller concludes:
Because the court thus found that the government caused Garcia-Garcia to be unavailable for trial and had the intent to render her unavailable for trial, it concluded that forfeiture by wrongdoing applied: "Because the government was responsible for rendering Garcia–Garcia unavailable as a witness, admission of the videotape would prevent it from benefiting from its own wrongdoing."

This conclusion is also consistent with another part of the Advisory Committee Note to Federal Rule of Evidence 804(b)(6), which states that "[t]he wrongdoing need not consist of a criminal act."